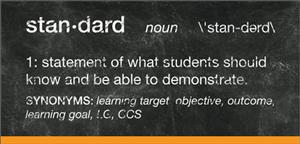 The purpose of the Interboro School District's K-5 Standards-Based Report Card is to provide a clear and accurate description of each child's progress in the following areas:
Performance relative to the Pennsylvania Academic Standards established by the PA Department of Education (PDE).
Academic performance relative to Interboro School District's curriculum and our grade level benchmarks and expectations.
Demonstration of the characteristics of a successful learner.
Standards-Based Education
Pennsylvania's Academic Standards "offer a set of rigorous, high-quality academic expectations all students should master by the end of each grade level. Pennsylvania's standards are robust and relevant to the real world and reflect the knowledge and skills our young people need to succeed in life after high school, in both post-secondary education and a globally competitive workforce" (PDE). These standards represent what a child should know and be able to do by the end of their specific grade level. The standards provide a focus for aligning curriculum, instruction and assessment.
Standards-Based Report Cards
Each trimester provides our elementary students multiple opportunities to practice, attain, and demonstrate proficiency on the PA Academic Standards and the Interboro School District performance benchmarks. Standards-based grading and reporting enables teachers to report students' progress toward achieving these year-end learning targets. The Standards-Based Report Card helps parents and students to understand more clearly what is expected at each grade level.
*** Math and ELA Rubrics for each grade level can be downloaded by clicking on the links below.
Kdg ELA 1st ELA 2nd ELA 3rd ELA 4th ELA 5th ELA
Kdg Math 1st Math 2nd Math 3rd Math 4th Math 5th Math
Parent Q/A
1. What is Standards-Based grade reporting?
A Standards-Based grade reporting system is designed to inform parents about their child's progress towards achieving learning standards specific to the grade level in which they are enrolled. These standards are consistent state and national expectations for what students should know and be able to do by the end of the given grade level.
2. Why do we use a Standards-Based Report Card?
The report card provides more information to parents about their child's progress toward achieving their grade-specific learning targets. On a traditional report card, students receive one overall average or grade for each subject area. On a Standards-Based Report Card, each of these subject areas is further extended to include the list of skills and knowledge that students are responsible for learning. Students receive a separate proficiency level, indicating progress toward mastery of that learning target, for each item on the list.
Kindergarten and Grades 1 and 2:
P = Performing at a proficient level at this time
D = Developing at this time
B = Beginning to develop
Grades 3, 4, 5:
4 = Highly proficient on grade-level standard
3 = Proficient on grade-level standard
2 = Developing on grade-level standard
1 = Beginning to develop on grade-level standard
3. Does the report card change for each trimester?
Concepts and skills are introduced in a logical, sequential, and developmentally appropriate pace and order. Consequently, in Math and English Language Arts, certain learning targets are fully introduced and assessed during different trimesters. Interboro's Standards-Based Report Card "grows" over the course of the three trimesters to reflect when students are taught and assessed on specific standards. You will notice that some standards are shaded for particular trimesters to indicate that they will be formally assessed during a later trimester.
4. How does the Standards-Based Report Card compare to the traditional letter grade system?
Standards-Based Report Card reporting is different from traditional letter grade reporting. Letter grades do not tell parents which skills their child has mastered or whether he or she is working at grade level. The Standards-Based Report Card measures how well an individual student is doing in relation to the grade level standards. This gives parents a better understanding of their child's strengths and weaknesses.
5. My child has an IEP. How will he or she be assessed?
There are modifications and accommodations in your child's IEP to support his or her progress on grade level standards as assessed on a Standards-Based Report Card.
It is important to understand that while your child may be proficient in some areas, there may be areas related to your child's learning disabilities which may be Developing or Beginning to Develop, according to state standards. More specific measures of your child's skills can be found in his/her Individual Education Plan (IEP). Your child's special education teacher will have data and progress reports to share with you regarding your child's progress toward IEP goals.
6. How do I better understand my child's progress toward achieving the grade level expectations?
Rubrics have been developed in ELA and in Mathematics in Grades K through 5 for each trimester. The purpose of these rubrics are to assist students and parents in understanding what the specific learning expectations are for students to be considered proficient at each grade level in each skill area. These learning expectations may grow or increase as the school year progresses and more content/skills are introduced.
The available standards based report card rubrics (criteria for each trimester) can be viewed for each grade level and are available on the District's website in the "Curriculum and Instruction" portal, under the "Standards Based Report Card" tab.
7. In third, fourth and fifth grades, what is the "End of Trimester Standards Based Assessment Percentage?"
In ELA and Math, students have an additional indicator for an average score attained from their achievement on classrooms based assessments. These letter-grade indicators and their percentages equivalents are shown below.
100 – 90 = A
89 – 80 = B
79 - 70 = C
69 – 65 = D
Below 65 = F
8. In Kindergarten, first and second grades, what is an "Instructional Reading Level based on Fountas and Pinnell Running Records?"
Each student's most current score from the running record administered at the end of each trimester is indicated on the K–2 Standards-Based Report Card to provide parents with information on their child's instructional reading level. An instructional reading level is the degree to which a student can proficiently read and comprehend a text.
To further understand Fountas & Pinnell Running Records and grade-level benchmarks, please refer to the "Running Record Overview" and "Leveled Reader Guide" that are available on the Assessment Resources for Parents page.
9. In Kindergarten through fifth grade, what are the "Characteristics of Successful Learners?"
Characteristics of successful learners represent research-based skills, competencies, and traits critical to success at the student's given grade level. Characteristics of learners are developmentally appropriate and unique to the child's grade level. The characteristics are assessed each trimester according to the following rubric.
O = Outstanding
S = Satisfactory
M = Making Progress
NI = Needs Improvement