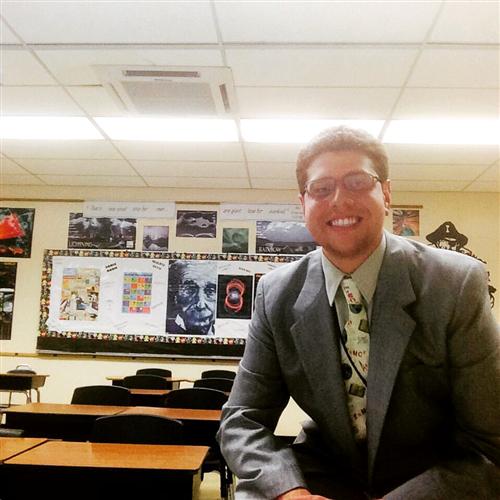 Phone: (610) 237-6410 ext. 2305
Email:
Degrees and Certifications:
B.S.Ed in Physics Education, May 2009 Widener University, Chester, PA Minors: Astronomy, Mathematics, Environmental Science M.Ed in Teaching and Learning, August 2016 Cabrini University, Radnor, PA MS in Physics (Teaching Emphasis), May 2018 Texas A&M University, Commerce, TX
Mr.

John Conte

ABOUT ME:

Welcome to my webpage! I am proud to say that this is my tenth year teaching science at Interboro High School. Interboro has always been a second home to me. I am an Interboro Graduate Class of '05. I went on to pursue a degree in Physics and Science Education at Widener University. I also received minors in the areas of Astronomy, Mathematics, and Environmental Science. As an undergrad, I was a part of a number of research projects in the areas of astronomy, climatology, and teaching methodology. My favorite research experience was my time working at the Lowell Observatory in Flagstaff, AZ. The research team and I worked out of Northern Arizona University to try to detect stars that were suspected of variability. I also worked at Widener's Observatory and was a Math and Science tutor on and off campus. I helped initiate an afterschool math program for the Chester Upland middle school as well. I received my Masters of Education in Teaching and Learning from Cabrini University and my Masters of Science in Physics with Teaching Emphasis from Texas A&M University.

I am Interboro's only physics teacher so this year my schedule consists of 5 sections of physics classes at various levels. Below is my current schedule:

Period 1 (7:40-8:28) – College Prep Physics

Period 2 (8:32-9:28) – Class Prep

Period 3 (9:32-10:20) – Honors Physics

Period 4/5 (10:24-11:12) – AP Physics C: Mechanics

Period 6 (11:14-11:44) - 2nd Lunch

Period 7/8 (11:48-12:36) – Honors Physics

Period 9 (12:40-1:28) – College Prep Physics

Period 10 (1:32-2:20) – ISS Duty (MWF) & Hall Duty (TTh)

Outside of the classroom, I am Interboro's Physics Olympics sponsor and I have also enjoyed working with the Interboro Marching Band Percussion Section in the past.

Outside of Interboro, I am the Co-director of Widener Observatory. Widener Observatory celebrates its 14th year anniversary and I am proud to say that I have been involved with it since the very beginning. I help facilitate weekly public stargazing sessions. These sessions are free to the public and are usually held on Monday nights and the first Friday of every month through the school semesters. I always enjoy when my Interboro students attend these sessions! For more information, visit the following website: www.widener.edu/stargazing

I am also an Adjunct Science Instructor at Widener University. I have been teaching at Widener during the evenings for the past 6 years. Listed below are the courses I have taught:

ASTR 098 - Astronomy Outreach

ASTR 108 - Introduction to Astronomy

ASTR 118 - Introduction to Astronomy Lab

ASTR 207 - Life in the Universe

ESSC 103 - Planet Earth

ESSC 109 - Introduction to Weather & Climate

ESSC 113 - Planet Earth Lab

ESSC 119 - Introduction to Weather & Climate Lab

SCI 101 - Physical Science

SCI 399 - Special Topics in Science

Outside of teaching, I am an active musician. I consider myself to be a drummer first but I can play an assortment of instruments. I enjoy spending time with my family. I am a first generation born in America. Both of my parents were Italian immigrants so most of my family still live in Italy. I try to visit them at least once a year.

Feel free to explore the tabs on the left hand side of this page to view information regarding the courses I teach here at the High School.

Thanks for visiting!

Have a happy and successful 2019-20 School Year!!